Gauge Featured At Ultimate Air Dog at AFLAC Outdoor Games 2010
Everyone's favorite dock diving dog, Gauge from Dearborn Michigan was featured in a report on a Georgia television station during his recent participation at the Ultimate Air Dog events at the AFLAC Outdoor Games.

You can check out the video featuring Courtney and Gauge to the right.
Gauge Awarded The 2009 Ultimate Cup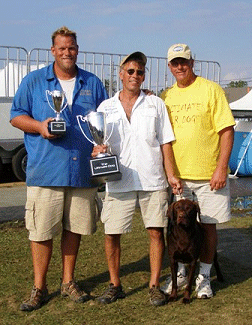 Milt and Brian Wilcox presented Courtney Graham and his chocolate lab, Gauge, with the 2009 Ultimate Dog Cup as the grand finale to the 2009 Ultimate Air Games.Final totals are available on the Ultimate Dog page of the Ultimate Air Dogs Website, listed under Results.
Gauge has been featured on ESPN2 on past Purina® Incredible Dog Challenge® programs and was featured again on the Purina® Incredible Dog Challenge® on January 24th 2009 on ABC Channel 7 Detroit.
Although not competing, Gauge & Courtney were interviewed on Fox 2 Detroit by Jay Towers at a recent event in Canton Michigan. Gauge is never camera shy as you can see here: Gauge The Dock Diving Dog On Fox 2 Detroit.
Way To Go Courtney & Gauge! Congrats!

Courtney Graham and his champion 8 1/2 year old dock diving dog Gauge are Michigan natives.
They compete nationally before thousands of outdoor and sporting dog enthusiasts. Interest in this great sport is increasing with exibitions and contests being featured all across the country.
The Outdoor Channel has a Dock Dogs National Series and former Detroit Tigers pitcher Milt Wilcox and his Ultimate Air Dogs shows are one of the premier dock jumping organizations in the country, puts on professional events that draw in thousands of spectators while maintaining a family friendly atmosphere and continuing to grow in popularity.
Please Check Out Gauge's Video Page And Photo Gallery For More Pictures And Videos Of Gauge In Action, Training, Jumping And Even Relaxing.

Also check out the links page with lots of great press on Gauge and the sport of Dock Diving.
Gauge The 2009 ULTIMATE DOG CHAMPION

Gauge Panorama Image Above Is Courtesy Of : Bob Watson, Paw Prints Photography
Gauge The 2009 ULTIMATE DOG CHAMPION IN ACTION!
Gauge Is Proud To Be Sponsored By The Following Companies.